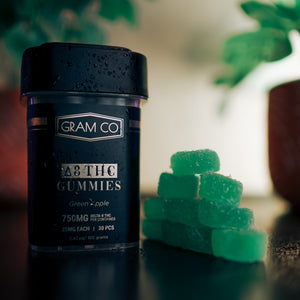 Delta-8 Gummy Reviews
GramCo's Delta-8 THC Gummies are one of our most popular products. GramCo customers consistently tell us our gummies are the best Delta-8 gummies on the market. Our 25mg Delta-8 THC gummies currently come in four flavors- Green Apple, Watermelon, Fruit Punch, and Blue Raspberry. We took a look at the last 100 Delta-8 gummy reviews, and here's what we learned:
Customers rate GramCo Delta-8 THC gummies as a 4.94 out of 5.0 stars! 
Customers tell us they are pleased with the gummy effect, price, and taste. Customer service is also touted as exceptional. If you are looking for one of the best Delta-8 THC gummies on the market, give GramCo a try. 
This includes all the feedback- good, bad, and indifferent. 
Here are a few of the details our customers shared: 
Tati
I ABSOLUTELY LOVE THESE!! Since I can't smoke in my apartment these provide me with an excellent alternative 😊
Great product and great value for the price! I stopped shopping at my local smoke shop after I tried these!
gummies
At first I wasn't sure, but they do help me get to sleep. There is a bit of a bitter aftertaste....but I can handle that better than not getting any sleep. Thank you
Rest
Since Covid and pneumonia recently I havent sleep at night. The gummies are helping and I don't have to take sleeping meds!!!!!!
Best edibles at the best price!
Love these - switched from another brand i buy locally!
They give me a goooood buzzzz 😇
A++
These are excellent. One gummy each night and I get a great quality nights sleep.
---