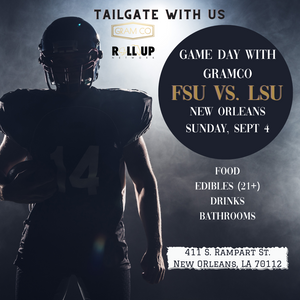 Game Days with GramCo: Tailgate in New Orleans
The official kick off to college football season is upon us and GramCo is here to help elevate your game day experience. Whether it's the online orders of bulk gummies and pre-rolls or the attendance at one of our in-person tailgate events, we're with you for the game. 
*******
We had plenty of food and beverages for all to enjoy. Double Fries No Slaw was there with the music and GramCo was there with all the vibes and vices.  GramCo CEO, David Hasenauer, was on hand to answer all the hemp and cannabis questions from TJ Pittinger's FSU Fans and Blake Ruffino's LSU fans. With no dispensary in the vicinity, GramCo was prepared with all the 25mg delta-8 THC gummy samples and kief dusted CBG pre-rolls for the 21+ tailgaters. We even had water soluble Quick Mix Delta-8 THC powder ready for a nearly a keg of hunch punch, but the Quick Mix quietly disappeared as quickly as TJ's phone and wallet on Bourbon Street in the French Quarter that dreaded Saturday night. The game finalized with a big W for Florida State University over Louisiana State University in a legendary last couple of minutes of the game. 
Did you miss the event? Don't worry, we have another tailgate in Knoxville, TN this month and one in Tallahassee in October. Here's the tailgate action you missed, and here's a link to see one of our favorite FSU Grandpa showing off his moves 👀,and a pic some of our favorite tailgate friends.
Thanks again to all of you who came out to help kick off the college football tailgate season Labor Day weekend. Special shout out to TJ and Blake for all the promotion to get over 400 of you there. We appreciate you, GramFam.
If you aren't following us on social media, please go give us a follow on Twitter, LinkedIn, Instagram, Facebook and Youtube. 
---